In Remembrance
Jimmy Tuck
Born: 7-Apr-1962
Passed: 13-Mar-2020
Joined:
Comments:
Book #1270173. There are no arrangements at this time. 
John Ryznar
Born: 10-Jul-1959
Passed: 26-Sep-2019
Joined:
Comments:
John Siegfried
Born: 27-Oct-1962
Passed: 05-Oct-2019
Joined:
Comments:
https://www.sharpfuneralhomes.com/notices/John-Siegfried
Journeyman Finisher, John Siegfried #1210414 passed away October 5, 2019 at the age of 56. He was a 25 year member. Visitation will be Saturday October 19th, 2019 from 11:00 AM to 1:00 PM followed by a Memorial Service starting at 1:00 PM the same day.
Sharp Funeral Home Linden Chapel, 209 E. Broad St. Linden, MI 48451 Phone 810-735-7833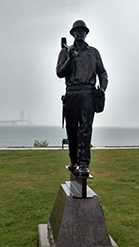 Rodman Albert Thierry
Born: 06-Nov-1927
Passed: 15-Dec-2016
Joined: 01-Aug-1953
Comments:
Lifetime Iron Workers Local 25 member Rodman Albert Thierry passed away 12/15/16. He was 89.