Announcements
Kevin McDonell #1104199 has made the difficult choice to step down as Training Coordinator for Iron Workers Local 25 as of June 30, 2018. Kevin has served in this role since April 2012.
On behalf of the Officers of Local 25, we would like to extend our sincere thank you and appreciation to Kevin for his hard work & dedication to this Local and especially to the Apprentices whom you have guided through to Journeyman! Best wishes and good health to you in your future endeavors!
---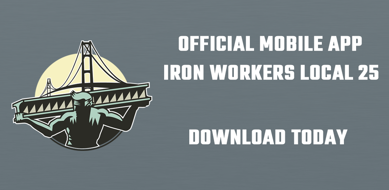 Introducing the Iron Workers Local 25 Mobile App for Members! Our mobile app will allow members to stay up-to-date on Local union events, training, legislative information and more. Members are also able to pay dues through the app.
The app is available to download on both iPhone and Android devices. You will need your book number to sign in.
For full instructions on how to download and login to the app, please click here.
---
In the Building Trades newspaper, it was stated that the Saginaw Hall would be open Monday, March 26th for the bylaw vote. This is not the case. The Saginaw hall is closed and voting will only be at Flint, Lansing and Novi. If you have any questions please contact your Business Agent.
---
Click here to read IW 25's Business Manager Mike Randick response to the proposed vision plan - March 2018
---
Business Agent Bob Sabaitis needs Iron Workers at AK Steel for a shut down on the 24th and 25th of April.
Days and nights, 12 hours.
Also an outage at USS Steel - same days and hours.
Call 248-508-5193 for Bob.
---