Announcements
All resumes must be turned in by 3:00 pm on Friday, June 25, in person. A 30 minute Talent Assessment test must also be taken when turning in your resume.

Click here to view the job description.
---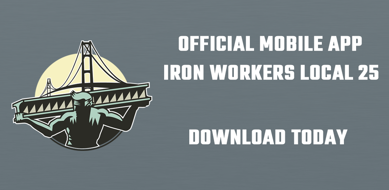 Introducing the Iron Workers Local 25 Mobile App for Members! Our mobile app will allow members to stay up-to-date on Local union events, training, legislative information and more. Members are also able to pay dues through the app.
The app is available to download on both iPhone and Android devices. You will need your book number to sign in.
For full instructions on how to download and login to the app, please click here.
---
Click here to read IW 25's Business Manager Mike Randick response to the proposed vision plan - March 2018
---